THINK LOCAL! THE BEACHES SMALL BUSINESS INITIATIVE
"The Beaches SBI is dedicated to helping maintain northern Palm Beach County's unique community character, provide continuing opportunities for entrepreneurs, build economic strength, and create an environment where locally owned, independent independent businesses grow and flourish."www.thebeachessbi.org info@the beachessbi.org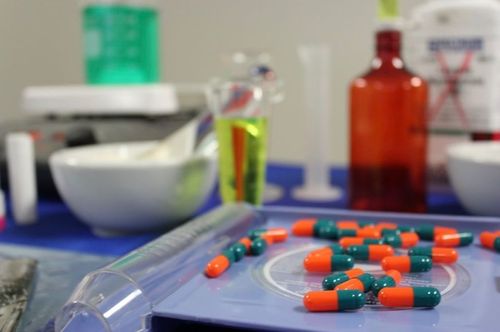 WE ARE A SPECIALTY PHARMACY THAT SUPPLIES PEOPLE AND PETS WITH MEDICINES CUSTOM MADE FOR THEM BASED ON A DOCTOR'S PRESCRIPTION.
We provide medicines that are usually not available from a regular drugstore. These medicines might include specially prepared:
Items that are no longer or never were commercially available.

New forms of a medication. For example, providing a liquid for a patient with difficulty swallowing pills.

Ophthalmics, especially preservative free medicine and high strength antibiotics.

Dosages, smaller or larger doses as needed for people that metabolize medicines at different rates.

Combinations of two or more drugs compounded into a single capsule (which reduces the number of pills taken on a daily basis and may reduce drug costs.)

Intravenous injections or infusions that need preparation in a sterile environment.
Our pharmacists are trained in the art of compounding and completes annual training courses to maintain proficiency in the latest techniques for producing the highest quality product. We use the highest grade chemicals available (USP) for all of our preparations. We employ micro-sized versions of the same equipment used in the larger scale operations of a pharmaceutical company.
We work very closely with you and your doctor to ensure that you get the best possible results from your compounded medication. We also strive to provide the most economical options for you. We take great care to offer the highest quality compounded medications and stand behind all our products. We specialize in customized medications for women, men, children and pets. When you do not want to be treated like a number then we are the pharmacy that can provide the customized formulations you need.
Choose Palm Beach Compounding Pharmacy for all of your compounding needs. We are a local independent pharmacy that fills prescriptions for our neighbors throughout Jupiter, Palm Beach Gardens, Juno Beach, Tequesta, and throughout Palm Beach. Visit our compounding pharmacy in Jupiter, Florida for all your compounding needs.
Palm Beach Compounding Pharmacy is here to provide you with the highest quality compounded medications. Our team has years of experience in this industry and has special training and certifications in compounding. We take pride in our affordable prices and outstanding customer service. Please feel free to contact us for more information.